KNU Selected for Leading Nations Student Invitational for 4th Year
Date

2020/04/14

Writer

Waters

Hit

884
KNU Selected for Leading Nations Student Invitational for 4th Year
Kyungpook National University has been selected for the fourth consecutive year to invite students of leading nations to attend training programs. The "2020 Student Training Project" is organized by the National Institute of International Education within the Ministry of Education.
The 2020 project to invite students from leading nations is a project to invite outstanding students from high schools where Korean language courses have been established. Countries include Germany, France and Indonesia. The program was implemented to promote the excellence of Korean culture through cultural experiences and to create a foundation to attract foreign students through high schools and universities abroad.
The training was scheduled to be conducted for 30 high school students from 14 countries for 11 days starting July 7. This period may change depending on the spread of COVID-19. Trainees will take Korean language and Korean culture and economic classes at Kyungpook National University. Additionally, they will participate in various hands-on programs such as a tour of Gyeongju, a Samsung Electronics tour and traditional culture experiences.
Dean of the Office of International Affairs at Kyungpook National University, Dr. Won Young Tak elaborated, "We were selected for the project for the fourth consecutive year after receiving high praise for Kyungpook National University's excellent international exchange performance and systematic student-tailored programs. It is expected to be a good opportunity to promote the excellent educational environment of Kyungpook National University and Korea."
Photo from 2019 GKS Invitation Program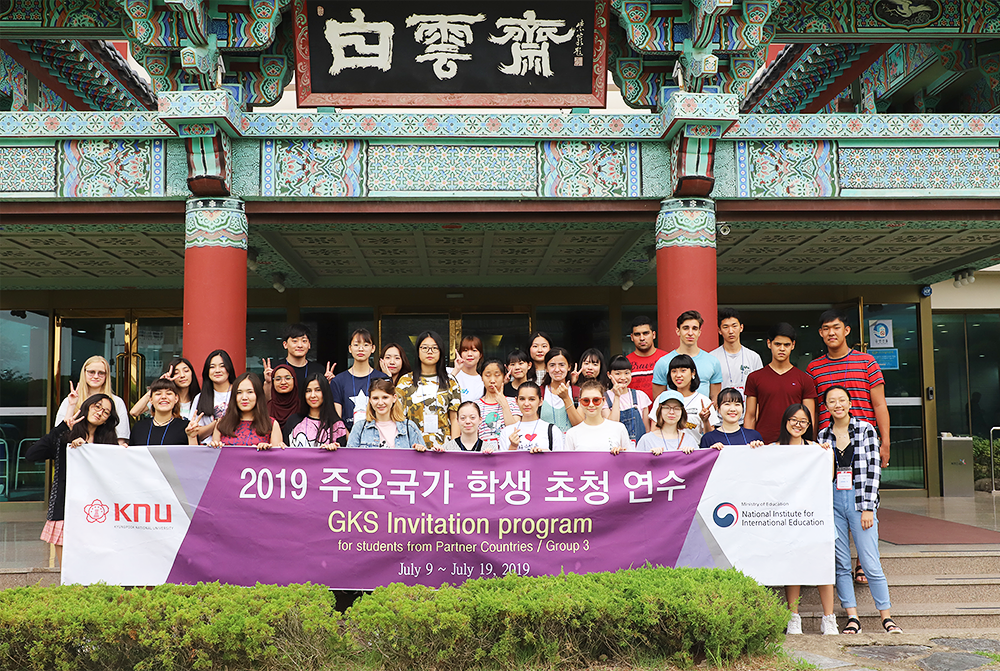 No File