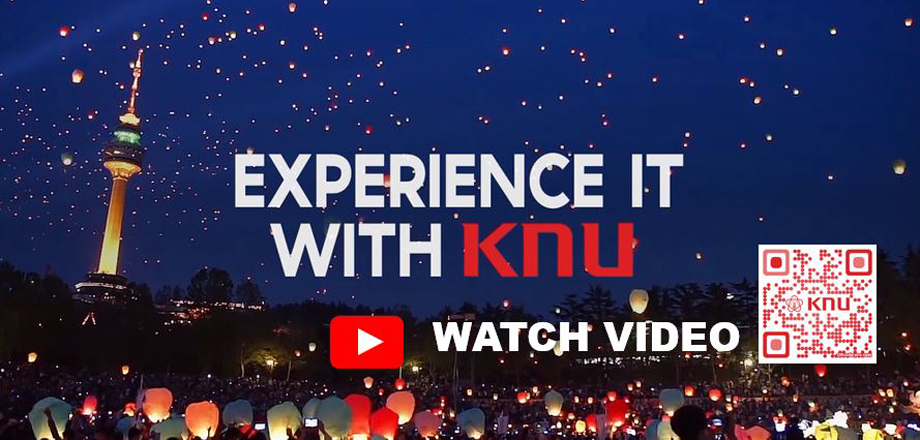 Study/Internship/Culture/Networking
Experience a new learning environment, include a part-time internship in the Korean workplace, and build your international network as an exchange student at KNU!
Eligibility
Currently enrolled on undergraduate program at KNU partner institution

※ If your university is not KNU partner institution, please check Visiting Students.Click

Language proficiency in either English or Korean.
Application Procedure
| Starting Semester | Nomination Deadline | Application Deadline | NOticiation of acceptance by Email | Acceptance packet sent by |
| --- | --- | --- | --- | --- |
| 2019 Fall semester | April 19, 2019 | May 3, 2019 | End of May | Mid of June |
| 2020 spring semeste | October 18, 2019 | November 1, 2019 | End of November | Mid of December |
Required Documents
Online ApplicationForm - fill out on-line application here
Letter of Nomination from applicant's home university
Official Transcript from applicant's home university (100-point grading scales)
A Copy of Valid Passport (face page)
A color ID photo
BA Diploma (MA student only)
※ Language Proficiency Test (TOEFL/TOEIC) submission is NOT required.
※ All required documents should be submitted through the online application site below.
Acceptance Packet
Acceptance packet includes Certificate of Acceptance (if needed for visa purposes), Letter of Acceptance, Orientation Letter, Arrival Information Sheet, and other necessary information. The acceptance packet will be sent to your home university so that you can apply for Student VISA.
Academic Calendar(exams included)
2019 Spring semester: 4 March 2019 - 21 June 2019
2019 Fall semester: 2 September 2019 - 20 December 2019
2020 Spring semester: 2 March 2020 - 19 June 2020
Orientation for both semesters is given on arrival
Expected Arrival Date(expected dormitory check-in date)
2019 Spring Semester: 28 Feb 2019, 12PM~
2019 Fall Semester: 1 September 2019, 12PM~
Orientation for both semesters is given on arrival
Transcripts
Available on the Website -- http://certp.knu.ac.kr/
It will be sent to international students' home university coordinators in July (Spring Semester) / February (Fall Semester)
Courses
A variety of courses are offered in English by individual colleges and departments, along with courses specially designed to offer a new perspective and understanding of Korea.
The list of courses taught in English will be available in January for the following spring semester or July for the following fall semester. In addition, this list will be sent to all accepted exchange students by e-mail with instructions on course registration.
The normal course load for students at KNU is 5-6 courses. Most KNU classes are three-credit courses and in order to get three credits in KNU, students have to complete 45 hours of studies (3 hours X 15 weeks). (1 course = 3 US credits, 45 class hours per semester, including exam period)
Undergraduate :

Maximum number of credit that undergraduate students can take per semester is

21 credit

(seven courses) including three internship credit.

Graduate :

Maximum number of credit that graduate students can take per semester is

9 credit

(three courses) including three internship credit.
Internship
Based on a diverse network of Korean companies, including multi-national conglomerates, SMEs, local government, and NGOs, KNU offers international students the chance to integrate internship into their exchange semester.
English is used as the language of communication, and activities range according to the background and skills of the individual student and the needs of the host company.
The internships are arranged at the beginning of the semester, and last for 12 weeks based on 12 hours per week for 3 credits. Most internships are unpaid.
Full-time internship options are also available during the summer and winter vacations.
See Internship Instructions for Fall 2018
Housing
All exchange students are automatically assigned to a room (shared) at on-campus dormitories. The dormitory fee for one semester is around USD1,000, which includes three meals per day at the dormitory cafeteria.
KNU Student Buddy Program
All exchange students are assigned a Korean student buddy who will help you adjust to a life at KNU. Your buddy will contact you via e-mail prior to your departure for Korea.
More Information
If you need further information or any help, please contact Exchange Program Manager at sabroad@knu.ac.kr or +82-53-950-2425