2020 KNU Global Summer School Program
2020 KNU Global Summer School Brochure
Click the image for full view

The KNU Global Summer School consists of two sessions. Session 1 is from June 29 to July 24(4 weeks) and Session 2 is from August 10 to 21(2 weeks). It brings together students and academics for a unique intercultural experience through provoking lectures of global and Korean issues as well as Korean language and culure during Session 1. If you want to learn Korean language and culture only, please join Session 2. All courses are taught either in English or Korean, and you will take courses with other participants from all over the world.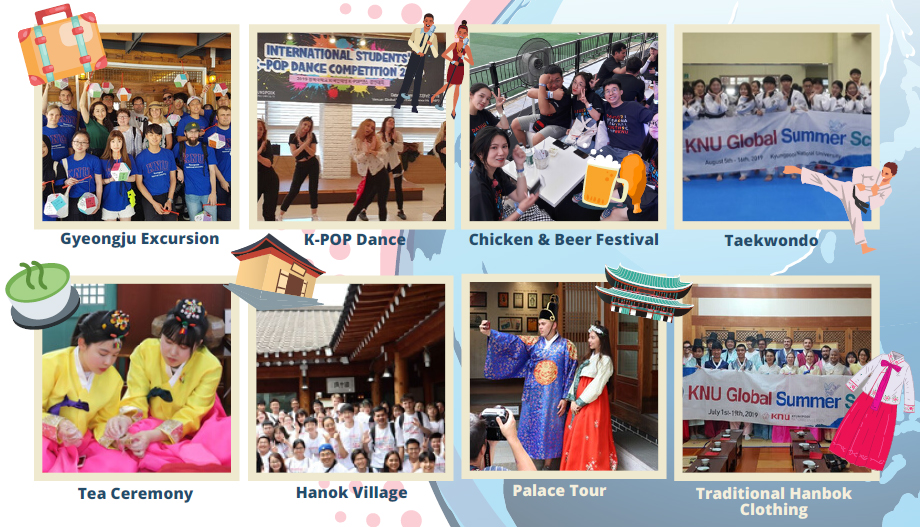 Eligibility : International University Students
Session 1 : June 29 – July 24 (4 weeks, 6 credits)
Session 2 : August 10 – 21 (2 weeks, 3 credits)
Payment Deadline: 15 May, 2020
Common Features
Session 1 (4 Weeks)
Session 2 (2 Weeks)
Academic Course (Optional)
Korean Language & Culture (Mandatory in Session 1 & 2)
Credits
3 Credits (45 hrs)
3 Credits (45 hrs)
3 Credits (45 hrs)
Operational Schedule
29 June ~ 24 July, 2020
Check in: 28 June
Check out: 25 July
10 ~ 21 August, 2020
Check in: 9 August
Check out: 22 August
Session 1 participants can select 2 classes (6 credits): - One optional and one mandatory
1 credit is equivalent to 15 hours of course work
Changing course(s) is not available after the application deadline
Course list
Courses are held Mon to Wed each morning (9am ~ 12:30pm)
Need to select one of the academic course to get 3 credits but subject to change
Korean Language
Cultural Experience
Field Trip
Authentic Korea-Daegu
Language Classes
(Basic/Intermediate)
Level test will be included
* during orientation

Korean Language 1 Syllabus

Korean Language 2 Syllabus

K-Pop Dance
Taekwondo
Hanbok Trial
Tea Ceremony
K-Movie Day

Gyeongju (World Cultural Heritage City)
Busan (Beautiful Seaside City)
Gumi (Korean Industrial Hub City)

Seomun Market
83 Tower
Night Tour
Daegu Oriental Medicine Museum
Session1
Session1
Sun
Mon
Tue
Wed
Thu
Fri
Sat
Week1
June28
Dorm Check-in
June29
Class
June30
Class
July1
Class
July2
Taekwondo
K-Pop Dance
Hanbok Dress
Tea Ceremony
July3
Gyeongju
Excursion
July4
Free Time
Week2
July5
Free Time
July6
Class
July7
Class
July8
Class
July9
Daegu City Tour & Night View
July10~11
Busan Excursion
Week3
July12
July13
Class
July14
Class
July15
Class
July16
K-Drama &
Movie Day
Chicken &Beer
Festival
July17
Company Visit to Samsung
July18
Free Time
Week4
July19
Free Time
July20
Class
July21
Class
July22
Class
July23
Daegu Clay
Shooting Range
July24
Farewell Party
July25
Dorm Check-out
Session2
Session2
Sun
Mon
Tue
Wed
Thu
Fri
Sat
Week1
Aug9
Dorm Check-in
Aug10
Class
Aug11
Class
Aug12
Class
Aug13
Taekwondo
K-Pop Dance
Daegu City Tour
Aug14
Busan Excursion
Aug15
Free Time
Week2
Aug16
Free Time
Aug17
Class
Aug18
Class
Aug19
Class
Aug20
Gyeongju
Excursion
Aug21
Farewell Party
Aug22
Dorm Check-out
Students from partner universities must be nominated by their home universities via knusummer@knu.ac.kr before submitting the online application - Students from non-partner universities must send 'name/home university name/nationality/email address' directly to email knusummer@knu.ac.kr
Students will receive online application form within 3 days and choose either 'Session 1' or 'Session 2'
Complete the online application from January 24th to May 8th
Complete the payment and upload a copy of remittance of program fee on KNU website before May 15th
All admitted students receive a copy of admission via email
(Those that need original copy for visa issuance should send an email or request separately)
Application Deadline: May 8th
Program fees do not cover travel insurance for participants. Students must purchase their own travel insurance before arriving in Korea.
KNU arranges student 'buddies' for program participants to help them settle in when they arrive, facilitating various experiences in Korea.
Rooms are fully equipped with twin beds (two students per room). Meals are not included but dormitory cafeteria provides food with extra charge (cooking is not permitted). Other facilities include wardrobes, showers, laundry (coin-operated washing machines), gym, and water purifier. Dorm rooms have wi-fi but a wi-fi connecting device is required. Bedding (linen sheets and pillow) are provided.
| | Session1 (4-Week) | Session2 (2-Week) |
| --- | --- | --- |
| Application Fee | Waived (KGSS 2020 Promo) | Waived (KGSS 2020 Promo) |
| Students from partner universities | USD1,400 | USD1,000 |
| Students from non-partner universities | USD1,680 | USD1,200 |
Application fee of USD100 is waived as a special promotion to all students of KGSS 2020. However, the application fee will be still charged is case of program withdrawal due to any reason.
The fees cover
√ 4-week / 2-week tuition
√ Accommodation in a twin room
√ Field trips and leisure activities
√ Welcome package (Summer T-shirt, Bag and KNU special gift)
Fee Payment Account
Daegu Bank : Kyungpook National University Branch 111, Oksan-Ro, Buk-Gu Daugu, South Korea
Account number : 532-10-123035-5
Swift Code : DAEBKR22
How to pay by bank transfer
Make sure program fees are transferred under the name of the participant
Fee transfer commission must be paid by applicants
Cancellation & Refund Policy
Except for instances of serious illness or other acceptable reasons determined by university, there will be no refund for cancellation. Cancellation requests should be made by email to: knusummer@knu.ac.kr

On or before 5 May: 100% Refund
From 26 May to 6 June: 50% Refund
After 7 June: Non-refundable
Please note that bank-transfer charges will be deducted from total amount refunded.
Office of International Affairs Kyungpook National University 80 Daehakro, Buk-Gu, Daegu, Republic of Korea, 41566
www.en.knu.ac.kr / Email: knusummer@knu.ac.kr / Tel: +82-53-950-2424